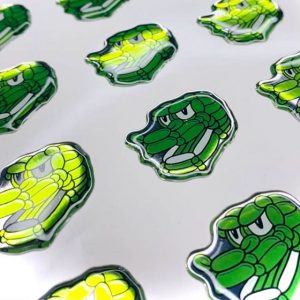 Stickers are a great way to express yourself. You could stick a resonating quote sticker anywhere from your laptop to the bumper of your car. But the usual stickers can get really dull quite fast. So why not add a mirror effect to the mix?
In this blog post, you'll learn how this effect could be used and how you can create your own mirror sticker. If that sounds interesting, then keep one reading.
Ways to Use Mirror Stickers
So how can you use this effect? Well, you could use it in many ways. The most straightforward way to add a little flair is to use it as an outline for your sticker. It will make it stand out from the crowd, but you could get a bit more creative than that.
For example, you could have a sticker with a Japanese warrior wielding a katana. Instead of making the blade grey or white, you'll add the mirror effect. That will make it look way more interesting.
So get your creative juices flowing, and create that fantastic sticker.
How To Make Your Own Mirror Stickers
So you've got an idea, but how will you make it into a reality? Fortunately, it's an easy 2-step progress! Here's how you do it:
Make your design.

You can create your design in two ways. First, you can create it yourself, which is free, and you can be sure of the outcome. Alternatively, if you don't have the necessary skills, you can let a low-priced freelancer do it.

Printing it. Now that you've got the design ready, you'll have to print it. However, printing it with your printer is a challenging task as you need unique materials and tools for it. So the best next alternative is to make your own mirror stickers in Stickerapp. There, they'll print your idea exactly as you want it.
And that's how you do it! There's nothing else to do but to wait until they are ready.
Conclusion
Now you know everything there is to know about creating your own mirror stickers. So what are you waiting for? Go and make your idea a reality!