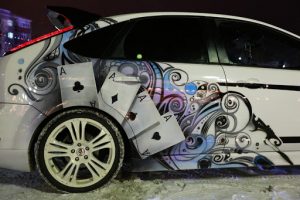 Do you want to stand out among the gray stream of cars? Do you want to decorate your car in a special way, but do not see the point of spending money on aerography? Looking for an economical option? Then mirror stickers are perfect for you! Among many stickers, you will find the one that suits your car.
A mirror sticker is a great way to add individuality to anything. This is not a mirror in the usual meaning of the word. Such stickers are an element that allows you to perfectly decorate anything – a room in an apartment, a sign, and, of course, your car.
Features
These decorations are flexible, which allows you to glue them anywhere, not just on completely flat surfaces. They come in a wide variety of designs, so it's easy to find the sticker you like best.
Even if you can't find the one you want among the many options, you can develop your own design and order a sticker with it!
Advantages
The main and indisputable advantage: with mirror stickers, you can decorate anything – your car will become more beautiful and unusual, attracting attention.
A mirror sticker is not a mirror bar or a mirror in the usual meaning, so luckily you can't break or hurt yourself. This sticker has no hard glass parts in its structure.
How to attach the sticker
To make the effect stronger, it is better to place the sticker where the light will fall on it well. It is also important that it is in balance with the surrounding elements. Of course, there are no strict rules of placement, but the above tips will help you to make everything effective and appropriate.
To transform your car, make your own mirror stickers or choose from a huge catalog and enjoy its changed appearance!