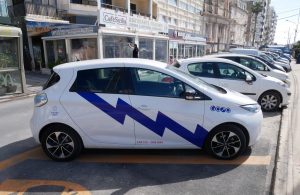 Malta is a small island in the Mediterranean, boasting a population of 430,000 people, and 273,000 cars. That's a lot of cars, no matter how you measure it and driving around Malta you can tell that it is crowded, and finding a parking spot can be a real nightmare.
This makes Malta the perfect location for carpools. In fact Malta's first nationwide carpool launched earlier this year, and it's all electric!
How it works
Goto Malta's carpool consists of 150 electric cars, all of the model Renault Zoe, that you find and reserve through a mobile app. After making a reservation you just go pick up the car and drive it for as long as you want.
When you're done you just leave the car at any of the designated parking spots that can be found all over Malta and Gozo. Thus you can use the cars for roundtrips as well as one way transportation. You pay for this by the minute, currently €0.28 per minute when driving and half of that during stopovers.
Advantages
The arrangement has many arrangements. While traffic jams and congestion cannot be avoided, at least you don't need to worry about where to park. The company has a lot of reserved parking spaces everywhere on the islands of Malta and Gozo, so getting rid of the car is almost never a problem.
Also, you don't need to book ahead. Actually, you can't, which makes this a good and cheap alternative to taking a cab.
Disadvantages
Although Goto Malta is a very nice and useful service, there are a few areas where things could improve.
It can be difficult to find a car nearby, at times, especially in the areas around Sliema and Gżira. This is a well-known problem, although with an unclear root cause, and the company is addressing this by having their staff transport cars back to the popular areas, however, this doesn't always help as demand is very high.
Conclusion
Goto Malta is a very interesting concept and it will be interesting to follow up on how things are developing after a few years. For Malta, and other densely populated areas that are heavily dependent on cars, carpools is exactly the right solution and using electric cars makes perfect sense for the kind of short trips that we're talking about here.