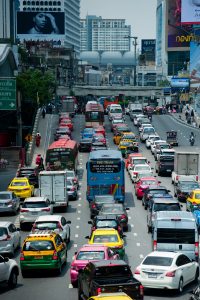 We all know the routine for business trips. You land at some airport, take a taxi to your meeting, then take a taxi back to the hotel. For dinner you go out, take a taxi to the restaurant, have a nice night out and then a taxi back.
This routine then repeats for every day of your trip, until you go back home and while it is convenient to be driven everywhere in a car there are certain disadvantages:
It takes time – Depending on where you go and your traveling habits while there may vary there is the constant risk of running into heavy congested traffic that will make everything take longer than expected.
It costs money – Sure, you won't be paying out of your own pocket, but using taxis all the time will make a mark in the expense budget for your employer and it will, in the end, affect you in some way.
Alternative ways to get around
So, what are the options then, if you want to reduce the amount on taxi rides while on a business trip? It depends, of course on where you're going and on where your hotel is located.
If your hotel is out in an industrial area somewhere, you may not have much choice, but say, for example, that you're staying at a centrally located hotel in Stockholm, or in a similar location. In that case you have several options:
Walking – Walking is really the perfect way to get around most city centres and it is ideal for any trip that is just a kilometre or two. You get free exercise and you have full flexibility, with no need to wait for a taxi to turn up. In many cases it is faster to walk than to take a cab.
Rent an electric bicycle or e-scooter – You may not have thought about it as an option, but in a growing number of cities around the world, it is. Ask at your hotel for recommendations when it comes to choosing the best service to use.
Use public transport – This can be an option in some cases, especially if there is a metro with quick an easy connections to where you want to go. It is sort of a hit and miss though, as you can't really be sure beforehand how safe, efficient and comfortable your trip will actually be.