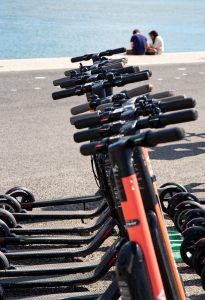 We recently went on a trip to Copenhagen, to visit the Copenhagen zoo, and some other attractions that are fun and interesting for the whole family.
Going by train meant we landed right in the heart of the city and could walk around to experience this lovely north-European town.
Copenhagen has always been known for the large number of bicycles. Sure, it's a normal European city, centered largely around cars, but the number of people using bicycles for their daily transport has always been greater than in comparable cities.
This time I noted one important difference, though. The bicycles had competition by electric mini-scooters, that are now to be found everywhere in the city centre.
World-wide trend
Of course, this should not be very surprising. After all, small electric vehicles are popping up everywhere nowadays, but still it's strange to see such a big shift in transportation habits in a city like Copenhagen, where people have seemed very set in their ways for decades.
However, the story is the same in Copenhagen as everywhere else. Some people have switched completely and invested in their own vehicles, but the major part are relying on the ever present mini scooter pools that are establishing globally.
As usual you can imagine the complaints being made about the mini-scooters littering the streets. While a bit exaggerated, they do tend to be left pretty much everywhere by their users, as there are no dedicated charging stations or depots available.
Game changer for the tourist industry
But what does all this mean, really? To begin with, it means fewer bicycles. With pooled vehicles, fewer people buy their own and in time this could mean less congestion in bicycle parking spaces and a better chance of being able to lock your bicycle away safely.
For the tourist industry the change could be even greater. Traditionally hotels in Copenhagen have been boasting about their central location, close to public transportation, but with the current development that seems like a diminishing advantage.
Instead of spending money on super-central location, the smart traveler will probably save and live further from the absolute city centre, and rely on the electric mini-scooter pools for transportation to and from the hotel.
Actually it's not very far-fetched to imagine that the hotel of the future will have their own mini-scooters, for their guests to use as they please.